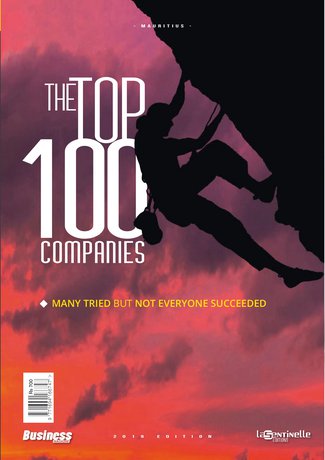 The Top 100 Companies
Issue : 3
Date : 28 November 2019
THE TOP
REALLY STRETCHED YET STILL AMBITIOUS!
Never mind the actual size of our national debt for a moment, but amongst the few economic metrics that have looked really solid over our recent past was the profile of our debt, a full 83% of which...
The Top 100 Companies.

Ouvrage de référence, l'annuaire The Top 100 Companies met en lumière les sociétés leaders qui dictent les tendances dans leurs secteurs respectifs.
Salué pour la rigueur de sa méthodologie et la pertinence de ses analyses, ce répertoire est un outil indispensable pour les investisseurs et le monde des affaires.
The Top 100 Companies et les plus grands titres de la presse Mauricienne sont sur eMediaPlace.com!

eMediaPlace.com est le seul kiosque en ligne à vous proposer un abonnement pas cher aux grands magazines, quotidiens et hebdomadaires Mauriciens et à leurs éditions locales.
Sur eMediaPlace.com retrouvez L'Express Maurice, Lékip, L'Express Turf, Weekly, Business Magazine, Essentielle, 5Plus, LaCase, The Top 100, L'Express Property, l'Express Property Trends, Luxury, Business Leaders, the Directory of Agro Industry, the Directory of Financial Institutions, Essentielle actives, L'Annuaire de la Com,  Mets Plaisirs, etc.
Avec l'application Le kiosque eMediaPlace.com, lisez les numéros téléchargés en toute liberté, sur ordinateur, iPad, tablette ou smartphone même sans connexion wi-fi ou 3G.
The old issues of The Top 100 Companies