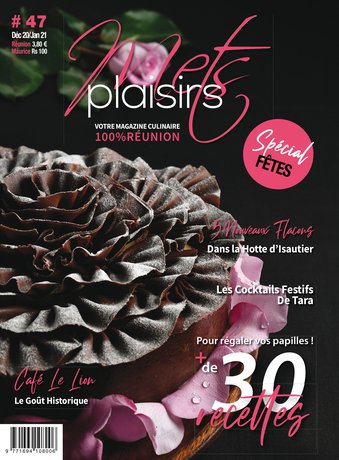 Mets Plaisirs
Issue : 47
Date : 23 December 2020
Local and classic flavours
Island folk typically enjoy a good get-together, best exemplified when sharing a meal. Mets Plaisirs is full of ideas for a gathering of friends or family, with recipes from master chefs for colourful homemade local dishes and more, often using seasonal fare.
Destined for both large and gourmet appetites throughout the Southwest Indian Ocean, this quality magazine appears every two months in Mauritius and Reunion Island. It is full of delights and a fine ode to our local styles of cookery.
eMediaPlace.com is the only online kiosk to offer you a cheap subscription to major magazines, daily and weekly Mauritians and their local editions.
On eMediaPlace.com find Business Magazine,  Essentielle, 5Plus, The Top 100, Weekly, L'Express Turf, L'Express Property, Luxury,Directory of Agro Industry, Essentielle actives, L'Annuaire de la Com, Business Leaders, Mets Plaisirs,Directory of Financial Institutions etc.
With the application The kiosk eMediaPlace.com, read the numbers downloaded freely on computer, iPad, tablet or smartphone even without wi-fi or 3G.
The old issues of Mets Plaisirs