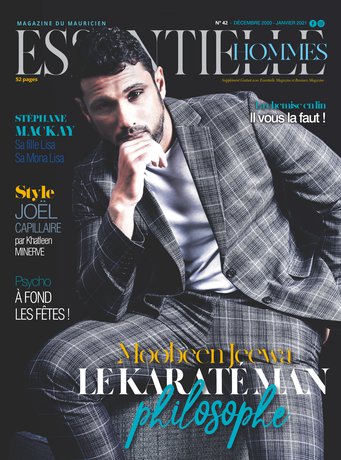 Menstyle
Issue : 42
Date : 17 December 2020
Menstyle
MENSTYLE, plus masculin que jamais !
Entre sérieux et légèreté, MENSTYLE est LE magazine d'une génération d'hommes soucieux de leur look et en quête d'un art de vivre élégant.
Au niveau du contenant, MENSTYLE se dévoile épuré, classe, sobre et joue la carte de la symétrie parfaite. Au niveau du contenu, Pause Passion, Dans ma Bulle, New in Town, Leçon de Style, Be Stylish, Il a Testé, It's a Hit, entre autres rubriques, feront découvrir au lecteur celui qui se cache derrière le costume-cravate. L'objectif étant de promouvoir une image plus «humaine» de l'entreprise.
Et comme l'élément féminin reste essentiel à tout homme, des rubriques telles que Father & Daughter et Sa WishList répondent à ces attentes.
Menstyle et les plus grands titres de la presse Mauricienne sont sur eMediaPlace.com
eMediaPlace.com est le seul kiosque en ligne à vous proposer un abonnement pas cher aux grands magazines, quotidiens et hebdomadaires Mauriciens et à leurs éditions locales.
Sur eMediaPlace.com retrouvez L'Express Maurice, Lékip, L'Express Turf, Weekly, Business Magazine, Essentielle, 5Plus, LaCase, The Top 100, L'Express Property, l'Express Property Trends, Luxury, Business Leaders, the Directory of Agro Industry, the Directory of Financial Institutions, Essentielle actives, L'Annuaire de la Com,  Mets Plaisirs, etc.
Avec l'application Le kiosque eMediaPlace.com, lisez les numéros téléchargés en toute liberté, sur ordinateur, iPad, tablette ou smartphone même sans connexion wi-fi ou 3G.
The old issues of Menstyle