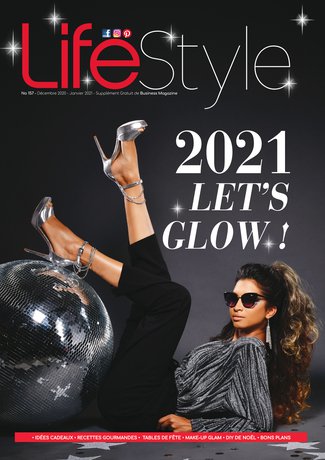 Lifestyle
Issue : 157
Date : 23 December 2020
Lifestyle
Le magazine de l'art de vivre
Lifestyle est le magazine de l'art de vivre de la Mauricienne. Il accompagne une fois par mois l'hebdomadaire économique Business Magazine.
C'est un supplément à la lecture facile qui invite à la détente. Il informe sur les bons plans, contient des idées utiles de déco, guide la lectrice dans ses choix de shopping, lui propose des lieux d'évasion, l'initie à un monde de saveurs tout en donnant la parole à des professionnels dans le domaine de la santé corporelle et mentale.
Autant abordable par sa lecture qu'agréable par la présentation des sujets traités, Lifestyle est destiné à guider les choix : qu'ils soient vestimentaires, culinaires, technologiques, musicaux…
Lifestyle, c'est le magazine de la femme active, celle qui ne se laisse pas influencer par la façon de voir des autres.
Lifestyle et les plus grands titres de la presse Mauricienne sont sur eMediaPlace.com
eMediaPlace.com est le seul kiosque en ligne à vous proposer un abonnement pas cher aux grands magazines, quotidiens et hebdomadaires Mauriciens et à leurs éditions locales.
Sur eMediaPlace.com retrouvez L'Express Maurice, Lékip, L'Express Turf, Weekly, Business Magazine, Essentielle, 5Plus, LaCase, The Top 100, L'Express Property, l'Express Property Trends, Luxury, Business Leaders, the Directory of Agro Industry, the Directory of Financial Institutions, Essentielle actives, L'Annuaire de la Com,  Mets Plaisirs, etc.
Avec l'application Le kiosque eMediaPlace.com, lisez les numéros téléchargés en toute liberté, sur ordinateur, iPad, tablette ou smartphone même sans connexion wi-fi ou 3G.
The old issues of Lifestyle