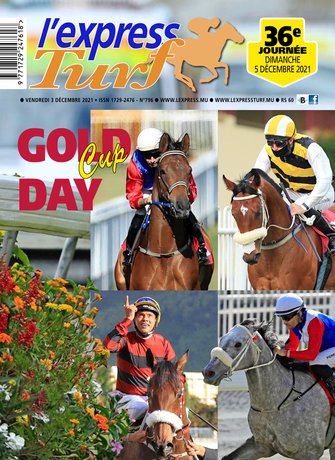 L'Express Turf
Issue : 796
Date : 3 December 2021
L'express Turf:  Pour miser juste!
Les courses hippiques, c'est le loisir par excellence du public mauricien. l'express Turf regroupe dans son équipe des passionnés d'hippisme comptant plus de 25 ans d'expérience. Leur expertise fait autorité auprès des turfistes.
L'express Turf réunit les informations essentielles de chaque journée : programme détaillé, classements et caractéristiques des chevaux, cotes, présentation des écuries et jockeys, montant des gains, analyses des performances.
Avec ce guide hebdomadaire complet, nos journalistes aident le turfiste dans ses choix grâce à des reportages assidus sur les sites d'entraînements et des entrevues des propriétaires et responsables d'écuries.
L'express Turf et les plus grands titres de la presse Mauricienne sont sur eMediaPlace.com!

eMediaPlace.com est le seul kiosque en ligne à vous proposer un abonnement pas cher aux grands magazines, quotidiens et hebdomadaires Mauriciens et à leurs éditions locales.
Sur eMediaPlace.com retrouvez L'Express Maurice, Lékip, L'Express Turf, Weekly, Business Magazine, Essentielle, 5Plus, LaCase, The Top 100, L'Express Property, l'Express Property Trends, Luxury, Business Leaders, the Directory of Agro Industry, the Directory of Financial Institutions, Essentielle actives, L'Annuaire de la Com,  Mets Plaisirs, etc.
Avec l'application Le kiosque eMediaPlace.com, lisez les numéros téléchargés en toute liberté, sur ordinateur, iPad, tablette ou smartphone même sans connexion wi-fi ou 3G.
The old issues of L'Express Turf