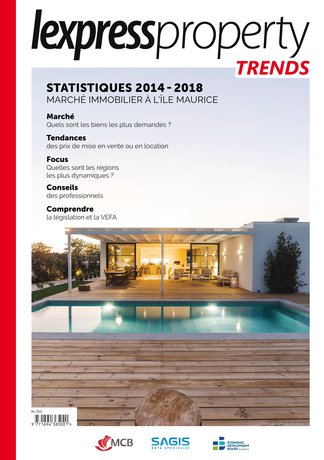 l'Express Property Trends
Issue : 1
Date : 5 August 2019
LexpressProperty Trends, the very first property barometer of Mauritius!
LexpressProperty.com would like to provide, through this guide, an overview of the market evolution in terms of demand and supply related to market entry prices (sale and rental) of property units advertised on its website from 2014 to 2018. It also aims at giving an insight into the specificities of this complex market, as well as into current and future projects, not to mention key stakeholders (agencies, developers, banks, notaries…) of the Mauritian real estate sector.
eMediaPlace.com is the only online kiosk to offer you a cheap subscription to major magazines, daily and weekly Mauritians and their local editions.
On eMediaPlace.com find Business Magazine,  Essentielle, 5Plus, The Top 100, Weekly, L'Express Turf, L'Express Property, Luxury, etc.
With the application The kiosk eMediaPlace.com, read the numbers downloaded freely on computer, iPad, tablet or smartphone even without wi-fi or 3G.
The old issues of l'Express Property Trends
Subscribers who read l'Express Property Trends also liked :