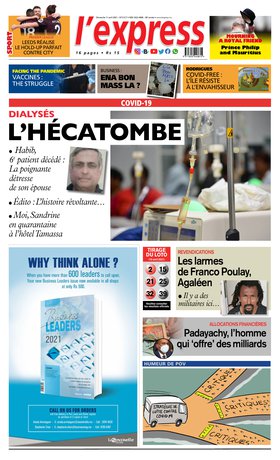 L'Express Maurice
Issue : 21217
Date : 11 April 2021
ACTUALITÉ
WAS : Padayachy, l'homme qui «offre» des milliards…
LES facilités sous le Wage Assistance Scheme (WAS) et le Self-Employed Assistance Scheme (SEAS) ont été étendues jusqu'au 30 avril... Suivant le prolongement du confinement national jusqu'à cette...
L'express
L'express a été en créé en 1963 pour lutter en faveur de l'indépendance de Maurice. Celle-ci, intervenue cinq ans plus tard, n'a pas été acquise facilement, contrairement à ce que l'on pourrait croire. Après avoir soutenu le combat mené par sir Seewoosagur Ramgoolam, l'express, à partir du 12 mars 1968, a vite pris ses distances de SSR, du Parti travailliste, et de toute autre influence politique, ou économique, afin de pouvoir exercer notre métier de journaliste en toute indépendance. Nous avons depuis jamais cessé de militer pour l'émergence du mauricianisme, c'est-à-dire un système qui favorise la méritocratie et l'effort du citoyen mauricien.
L'express et les plus grands titres de la presse Mauricienne sont sur eMediaPlace.com!
Profitez également : l'Express Property, L'Express Junior   des suppléments gratuit de L'Express Maurice.
eMediaPlace.com est le seul kiosque en ligne à vous proposer un abonnement pas cher aux grands magazines, quotidiens et hebdomadaires Mauriciens et à leurs éditions locales.
Sur eMediaPlace.com retrouvez L'Express Maurice, Lékip, L'Express Turf, Weekly, Business Magazine, Essentielle, 5Plus, LaCase, The Top 100, L'Express Property, l'Express Property Trends, Luxury, Business Leaders, the Directory of Agro Industry, the Directory of Financial Institutions, Essentielle actives, L'Annuaire de la Com,  Mets Plaisirs, etc.
Avec l'application Le kiosque eMediaPlace.com, lisez les numéros téléchargés en toute liberté, sur ordinateur, iPad, tablette ou smartphone même sans connexion wi-fi ou 3G.
The old issues of L'Express Maurice
Les numéros suppléments gratuits