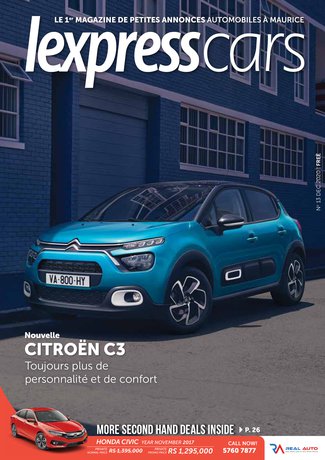 l'Express Cars
Issue : 13
Date : 9 December 2020
l'Express Cars
L'express Cars est la seule marque qui vous offre deux fois plus de visibilité vis-à-vis du grand public pour le marché automobile. La marque compte aujourd'hui un site avec une audience de plus de 3 000 visites par jour et un magazine de 30 000 exemplaires distribué à travers l'île. Cette formule bimédia vous assure un impact proéminent pour toutes vos campagnes.
l'Express Cars est un supplément gratuit de L'Express Maurice.
l'Express Cars  et les plus grands titres de la presse Mauricienne sont sur eMediaPlace.com!

eMediaPlace.com est le seul kiosque en ligne à vous proposer un abonnement pas cher aux grands magazines, quotidiens et hebdomadaires Mauriciens et à leurs éditions locales.
Sur eMediaPlace.com retrouvez L'Express Maurice, Lékip, L'Express Turf, Weekly, Business Magazine, Essentielle, 5Plus, LaCase, The Top 100, L'Express Property, l'Express Property Trends, Luxury, Business Leaders, the Directory of Agro Industry, the Directory of Financial Institutions, Essentielle actives, L'Annuaire de la Com,  Mets Plaisirs, etc.
Avec l'application Le kiosque eMediaPlace.com, lisez les numéros téléchargés en toute liberté, sur ordinateur, iPad, tablette ou smartphone même sans connexion wi-fi ou 3G.
The old issues of l'Express Cars