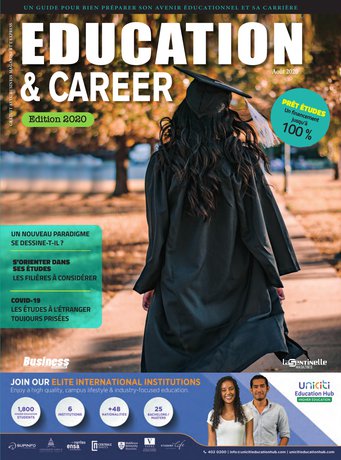 Directory of Education and Career
Issue : 3
Date : 19 August 2020
Directory of Education and Career
Le savoir à portée de main
Avec l'ambition de Maurice d'être le pôle régional du savoir, les offres de formation se sont diversifiées. Comment choisir la bonne ?
Guide complet des établissements d'enseignement supérieur, cet annuaire de petit format présente une liste exhaustive des offres disponibles. Il s'adresse autant aux étudiants qu'aux professionnels et entreprises engagés dans une logique de formation continue.
Le Directory of Education and Career est divisé en trois volets : les enjeux associés à l'enseignement supérieur, des fiches détaillées sur les centres et leurs diplômes et une sélection des plans de financement disponibles.
Directory of Education and Career et les plus grands titres de la presse Mauricienne sont sur eMediaPlace.com
eMediaPlace.com est le seul kiosque en ligne à vous proposer un abonnement pas cher aux grands magazines, quotidiens et hebdomadaires Mauriciens et à leurs éditions locales.
Sur eMediaPlace.com retrouvez L'Express Maurice, Lékip, L'Express Turf, Weekly, Business Magazine, Essentielle, 5Plus, LaCase, The Top 100, L'Express Property, l'Express Property Trends, Luxury, Business Leaders, the Directory of Agro Industry, the Directory of Financial Institutions, Essentielle actives, L'Annuaire de la Com,  Mets Plaisirs, etc.
Avec l'application Le kiosque eMediaPlace.com, lisez les numéros téléchargés en toute liberté, sur ordinateur, iPad, tablette ou smartphone même sans connexion wi-fi ou 3G.
The old issues of Directory of Education and Career