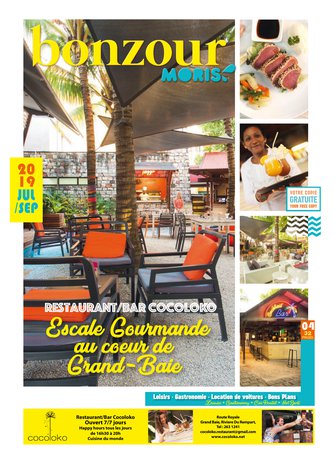 BonZour!
Issue : 4
Date : 1 July 2019
Bonzour Moris
Où aller et quoi faire.
Il y a une gamme croissante de grandes activités et de sites et lieux à explorer à Maurice. Bonzour Moris est un guide gratuit pour les visiteurs et la population locale, avec des informations sur les endroits à visiter et les choses à faire, ainsi que des listes de restaurants, hôtels, spas, boutiques – et plus encore. Le magazine est publié trimestriellement avec des textes en anglais et en français et est largement disponible dans les magasins locaux.
BonZour Moris! et les plus grands titres de la presse Mauricienne sont sur eMediaPlace.com
eMediaPlace.com est le seul kiosque en ligne à vous proposer un abonnement pas cher aux grands magazines, quotidiens et hebdomadaires Mauriciens et à leurs éditions locales.
Sur eMediaPlace.com retrouvez L'Express Maurice, Lékip, L'Express Turf, Weekly, Business Magazine, Essentielle, 5Plus, LaCase, The Top 100, L'Express Property, l'Express Property Trends, Luxury, Business Leaders, the Directory of Agro Industry, the Directory of Financial Institutions, Essentielle actives, L'Annuaire de la Com,  Mets Plaisirs, etc.
Avec l'application Le kiosque eMediaPlace.com, lisez les numéros téléchargés en toute liberté, sur ordinateur, iPad, tablette ou smartphone même sans connexion wi-fi ou 3G.
The old issues of BonZour!