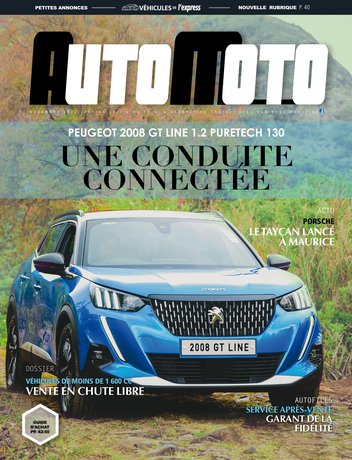 Automoto
Issue : 1470
Date : 16 December 2020
Automoto
La passion partagée
Automoto est une ressource essentielle pour les passionnés de voitures, qu'ils soient à la recherche d'informations techniques, en phase d'achat ou simplement intéressés par le design et la technologie automobile.
Les lecteurs de cette revue bimestrielle apprécient le regard critique qu'elle apporte sur l'évolution des nouveaux modèles, la sélection de gadgets, les rencontres avec les amoureux des belles berlines.
Le traitement visuel d'Automoto lui donne un positionnement haut de gamme et garantit à son lecteur une émotion égale au plaisir de conduire.
Automoto et les plus grands titres de la presse Mauricienne sont sur eMediaPlace.com
eMediaPlace.com est le seul kiosque en ligne à vous proposer un abonnement pas cher aux grands magazines, quotidiens et hebdomadaires Mauriciens et à leurs éditions locales.
Sur eMediaPlace.com retrouvez L'Express Maurice, Lékip, L'Express Turf, Weekly, Business Magazine, Essentielle, 5Plus, LaCase, The Top 100, L'Express Property, l'Express Property Trends, Luxury, Business Leaders, the Directory of Agro Industry, the Directory of Financial Institutions, Essentielle actives, L'Annuaire de la Com,  Mets Plaisirs, etc.
Avec l'application Le kiosque eMediaPlace.com, lisez les numéros téléchargés en toute liberté, sur ordinateur, iPad, tablette ou smartphone même sans connexion wi-fi ou 3G.
The old issues of Automoto